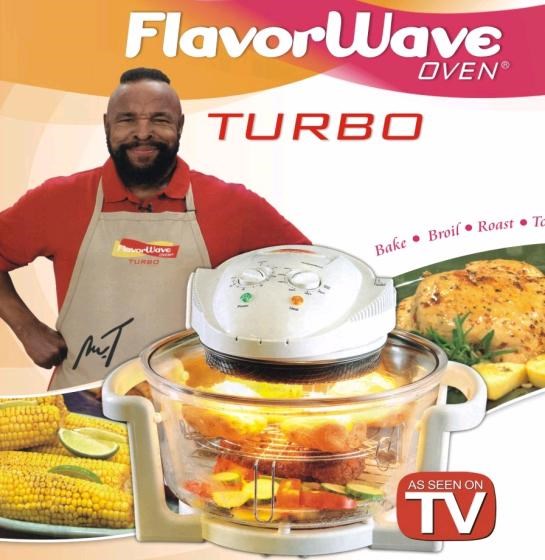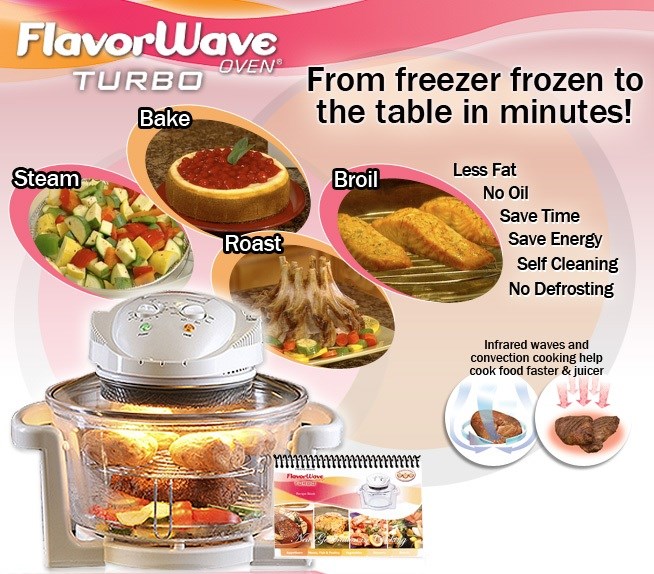 Feature:
*Converts electrical energy into intense heat.
*Seals juices and enhances natural flavor. *Twice the flavor in half the time.
*Moves air around speeding up cooking time and cooks food evenly from all sides.
*Convection oven uses infrared heating and convection fan to cook food fast and evenly.
*No need to thaw frozen meat, no need to add oil, saves energy than traditional oven and cooks healthy food in half the time.
*The oven can broil, roast, bake, grill, barbecue, fry, steam.
*Digital control panel
Easy to operate:
*Just select and set both time and temperature
*Close to microwave speed with oven quality
*Thaws out frozen foods in minutes Self cleaning
*Seals your foods natural juices
*Cooks an entire meal at one time without blending of flavors
*Low fat cooking allows you to cook without excess fat or oil Power saving device
*Detachable power cord
The Flavorwave Oven® miracle is a breakthrough that turbo cooks all your favorite foods up to three times faster, with no added fat or your money back.
You can even cook frozen solid foods right out of the freezer! Cook mouth watering turkey in 20 minutes rather than 90 minutes, cook Lasagna in 15 minutes instead of an hour, and you can even bake delicious cinnamon buns in just minutes. Whether your food is fresh or frozen, you can bake, broil, roast, toast, sear, brown, barbecue, steam, reheat, and more, faster than ever before.
The Flavorwave Oven® secret is the combined use of halogen heat, infrared waves, and convection cooking, so food is cooked faster and juicier. Fats and oils are removed and food is always cooked to perfection. With Flavorwave Oven® cooking, you could lose weight while enjoying all your favorite foods.
Best of all, Flavorwave Oven® clean up is a breeze - Add warm water, a bit of detergent and set it to self-clean or simply place in the dish washer. Either way your job is done.
Set it to cook and your off the hook! Juicy vegetables, mouth-watering steaks, savory chicken and grilled seafood have never been easier and tastier. Plus it's perfect for Christmas time when you need the extra oven space just take it your friends or relatives!